It was 1980-something and Zupe was in the U.S. Air Force (that's Sergeant Zupe, thank you very much).  Yes, he was playing piano gigs, both on and off base.  Yes, he was studying under Juilliard Master Composer and Pianist, Paul Amrod.  AND Zupe was in a rock band, playing hits from Bon Jovi, The Who, Van Halen and countless others.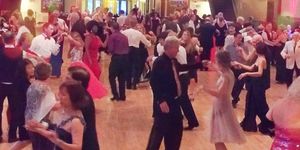 Upon leaving the service, Zupe started his solo career, surrounded by keyboards, drum machines, and computers on stage.  AND he performed Classic Rock and Top 40 hits of the time, leading The Tribune-Democrat's Robert Long to write, "This musician is a keyboard-pounding, long-haired, purple-lamé-outfitted computer whiz …"
These days, Zupe doesn't play that kind of show, much.  But when he does, it still delights the senses … and packs the dance floor.